Products

Be proactive and save


High Performance Emulsions
PASS QB
Texture Seal
PASS CR
PASS R & HIR
PASS ER
PASS for Maintenance
CHFRS-2P
FastSet
Plastic Seal
GSB-88


Conventional Emulsions


Performance-grade asphalts
Sign up for our
E-Newsletter

---
Find out how much
you can save

Texture Seal
Extend service life while enhancing Skid Resistance
Texture Seal is a safer and more effective treatment for rejuvenating and extending pavement life of good PCI roads at a very low cost.   

While agencies are often reticent to fog-seal busy arterial and collector roads due to the temporary loss of skid numbers, the Texture Seal process mitigates this concern by adding a micro texture finish all in one quick and convenient pass.

Using either our PASS QB polymer-modified rejuvenating emulsion or our FastSet quick curing polymer modified emulsion and our BSA-35 aggregate - a jet black, hard, angular sand, Texture Seal will seal, penetrate and restore oxidized surfaces, but not clog the void structure of pavements, which makes it ideal for open or gap-graded pavements, including rubberized (RAC) roadways.

One-pass application
Low cost
Extends service life by 3 to 5 years using PASS QB
Proactive pavement preservation strategy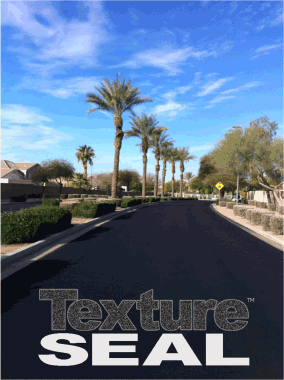 Click to see a demonstration of this product.




PASS® QB is a Registered Trademark of Western Emulsions Inc.